November 9th, 2015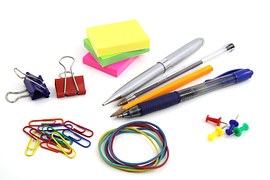 Getting your children ready to go back to school is expensive, and it gets more expensive every year. It is possible to keep a lid on the costs, however. You should stick to a budget, and explain that budget to your children – it will help them to learn the value of money. Then, to get what your children need within your budget you should follow the five tips on this list.
Check What You Already Have
Can you reuse uniforms, schoolbags, lunch boxes or other equipment from last year? Sometimes all you need is a bit of creativity and some thorough cleaning. Also check through all your drawers and cupboards – you never know what pencils, pens and other bits and pieces you will find in there that you forgot you ever had.
Buy Used
Consider buying some items used. School uniforms are one thing that you might be able to save substantial sums of money if you buy second hand. You can get a uniform that looks just as good as one that is new, but you will pay a lot less. You can shop for used items at garage sales, thrift stores, and online at websites like eBay and Craigslist.
You will have to buy some things new, however. For these items you should be careful which stores you use. Always check places like dollar stores and supermarkets first as you will find that they usually have lower prices.
Use Coupons
Keep an eye out for online coupon codes, promotional codes, and vouchers. If these are general discount codes you can save them throughout the year, or you can start looking out for back to school specific offer codes and coupons at times when children normally return to school.
Buy In Bulk
You might be able to save money if you buy in bulk. When you apply those savings across multiple children and a number of different supplies, they can be substantial. But how can you buy in bulk? One option that you have available is to buy enough for a full year instead of as-and-when you need. Another option is to team up with another parent or group of parents to buy supplies together. And remember if you have a discount code or coupon you will save even more.
Buy Off-Peak
The best deals on school supplies are usually not available when you need them – just before the children go back to school. This is peak trading time for retailers, so prices are often kept high. It is better if you buy throughout the year whenever you see a good offer. And if you combine this tip with the previous two – buying in bulk and using discount coupons – you will maximize your savings.
One final thing that you should do to ensure you save as much money as possible when buying back to school supplies is to make a list. This will ensure you get everything that you need but it will also keep you focussed – stick to the list no matter what.