November 9th, 2015
The price of flights is a moving target – there are no hard and fast rules to getting the cheapest options. The prices that you pay can vary from year to year, i.e. you could book your Thanksgiving or holiday flight on exactly the same day every year and sometimes you will save money, and sometimes you won't. But are there any guidelines that you can follow to help you get the best deals?
Best Time To Book Thanksgiving Flights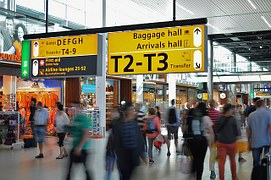 The cheapest time to book your Thanksgiving flights is in August. If you can buy your flights this early you could save anything from five to seven percent compared to buying the same flight the week before Thanksgiving.
Buying in September and October is also generally cheaper, but the savings that you make become smaller as airlines start to fill up their places and approach capacity levels.
There are two other things that you should consider when thinking about your Thanksgiving flights, though. The first is any promotional codes or discount coupons that you have. The savings that you can make with an offer code can far exceed any saving you can make by timing your purchase just right.
The second thing to consider is the day that you plan to fly. If you want to fly on the Wednesday of Thanksgiving week – the day before Thanksgiving – and you then want to return on the Sunday ready for going back to work the following week, you will pay the most expensive fares. This is because those are the days that most people want to fly. If you have flexibility with your dates – leaving a day or two earlier, and staying a day or two later, for example – you will save money.
Best Time To Book Holiday Flights
Similar advice applies to booking holiday flights – you should always use promotion codes and vouchers where possible and you should avoid flying on the busiest days. The latter is a little harder to nail down because Christmas falls on a different day of the week each year. To get it right you should think about when most other people will be flying. If Christmas is on a Friday, the Thursday and Wednesday before are going to be busy, as is the first Sunday in January.
But when is the best time to book holiday flights? The most expensive time to buy is in December. Buying in the preceding months is the best option – even in November you can buy tickets for four or five percent less than if you wait until December.
The cheapest time to buy a ticket, however, is in August. This is the same as for Thanksgiving flights, although the savings for holiday flights are much greater – you will save as much as 14 percent if you can buy your holiday flights in August.
The trick to getting the cheapest possible flights around Thanksgiving and the holidays is to buy early, use promotional codes when you can, and avoid traveling on the really busy days.